Message to all newly admitted into unilag. See 4 Steps you must take
This means that candidates can now monitor their admission status and easily know when they have been offered an admission.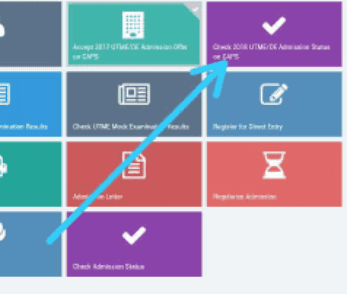 Once a candidate has been offered admission, such candidate is required to do either of two things; to accept the admission or to reject it.
Once you accept the admission, your admission quest is over as you will no longer be available for other schools' admission consideration. On the other hand, if you reject the admission, you become available to other schools who have free admission slots for admission consideration.
It is important to note also that candidates who have been offered admission on JAMB CAPS are to equally print their admission letter after accepting the admission, as they will likely need this during clearance and registration in the school that they have been admitted.
We therefore advise candidates to closely monitor their admission status on JAMB CAPS so as to do the needful as soon as possible.
Some schools may not even publish list of admitted candidates on their own portal or notice board. So for candidates that applied for admission in such schools, the only way to know when they have been offered admission is to check their admission status on JAMB CAPS.
How To Check Admission Status on JAMB CAPS
Visit: http://www.jamb.org.ng/efacility/ and login with your registered email address and password to access your dashboard
After you have log in you will see a welcome notice just move down on the page you will see "check 2018 UTME/DE Admission Status on CAPS". Click on it and you will be redirected to the caps page
After clicking on "check 2018 UTME/DE Admission Status on CAPS", you will see a page showing your JAMB details and your admission status, If you have been given admisison, you can now go ahead to accept it or reject it.
Note:
If you are using a phone, you may not see the option to check is Admission Status on CAPS, Most phone users may only see the welcome message. The caps page shows only welcome because it requires you to use desktop mode to view the complete page. This is why the chrome browser is recommended if you are a using a phone. All you need to do is go to Chrome option and choose request desktop site for the complete page to display.
If you have accepted your admission on the CAPS portal, there are 4 important key points I'll like you to know:
1. To print your admission letter, you will need to pay per each printed copy:
That is, to say, that when you pay online and print your jamb admission letter, make sure you keep a copy safe, either on google drive or on your computer, because printing another copy from Jamb website will require you to pay again, which isn't economically wise
2. Make sure your O-Level results have been uploaded:
You might lose the admission if your O Levels results have not been uploaded, so please make sure you upload them and verify that they are there on the Jamb portal in the right format.
3. Let a professional carry out the registration for you:
Do not base your online registration on trial-and-error, let a professional handle your registration process for you, as any little mistake is costly. Just contact me via writing a comment here and I'll drop my contact details. We are tested and trusted! Everything would be done accurately for you from online registration to payment of school fees to sending your documents to your mail.
4. Ballot for bedspace with us:
You must have heard a rumour about the struggle students go through to ballot and get bedspaces in their Halls of residence. This is not untrue, and we here at Unilagupdates have a structure that is affordable for all fresher's and staylites. We would ballot for you and get you a bedspace at the cheap rate of #1500 and if you do not get, you would've refunded. Please note that with us, you have 90% chance of getting a bedspace and around 7 students got spaces with us, although the exercise was free last year as a test run. So, let us handle your balloting for you to avoid you going through the inconvenience of squatting.
Watch out for updates on this site!